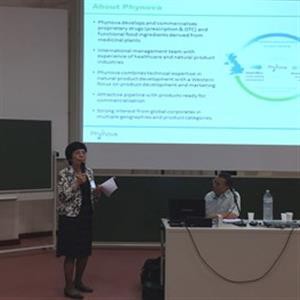 15th July, Mons, Belgium: Ms. Hongwen Yu, the executive Vice President of Phynova Group Limited was invited to share her experience of successfully registering the first TCM in the UK under the THMP directive.
Speaking on the challenges faced during the registration process for Phynova Joint and Muscle Relief Tablets™, Ms.Yu was quoted saying "The key is to find the right manufacturing partners to meet the European GMP."
Phynova Joint and Muscle Relief Tablets™ are registered under the Traditional Herbal Medicinal Product Directive 2004/24/EC, a directive established to enable high quality herbal medicines to be registered as an OTC product, with medical claims on the packaging and on the information leaflet.
Since the directive went into effect in 2005, over three hundred herbal products have been resisted under it anymore than one hundred herbs are included in all granted products in the UK. Many of these products are simply different manufacturer's brands of the similar products and of these hardly any are from outside of Europe. After several years of working with the MHRA, the Phynova Joint and Muscle Relief Tablets™ were granted a THR in February 2015 and it has been made available to consumers since June 2015.
In addition, Phynova has submitted a second THR application for Isatis in collaboration with a Chinese Pharmaceutical Company.
About Phynova Joint and Muscle Relief tablets™
Phynova Joint and Muscle Relief Tablets™ has been approved by the UK regulatory agency MHRA as an OTC
product under the The Traditional Herbal Medicinal Products (THMP) Directive. The tablets are advised for the relief of backache, minor sports injuries, rheumatic or muscular pains, general aches and pains in the muscles and joints.
The natural pain relief product is derived from the plant Sigesbeckia, which has a rich history of use in Oriental medicine for management of symptoms of all forms of arthritis and other musculoskeletal pains.
About the Joint meeting of the GP-TCM Research Association
The meeting is a joint collaboration between GP-TCM RA and two Specialty Committees (TCM Chemistry and TCM Pharmaceutical Analysis) of the World Federation of Chinese Medicine Societies (WFCMS). The meeting provides a platform for regulatory-industrial-academic exchanges and potential research collaborations, on various frontiers of Traditional Chinese Medicine